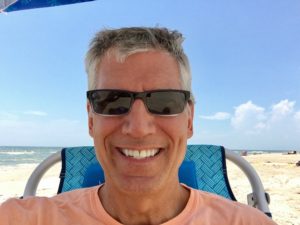 I've always possessed a passion for performing… at the age of four, standing on a table top singing for the friends of my older brother and sister…in the fourth grade portraying the dad in a play called The Mighty Germ…in my college class, Oral Interpretation of Literature, reading "cuttings" of some of the classics.
Over the past thirty plus years, I've had the pleasure of performing within the community of talented actors in the field of voice-over and narration which has inspired and sharpened me. I've honed my skills by applying the principles taught by Patsy Rodenburg, Director of Voice at London's Royal National Theater.
I approach each project with the objective of breathing life into the written word by responding to it with a point of view, driven by genuine emotion and informed by a life lived.
Rewards have come in the form of gold and silver Addy awards, a Silver Reel and  an Emmy for Birth of A Colony, which I narrated for public television. I was privileged to become acquainted with the iconic Peter Thomas who graciously described my work as "great". Eclipsing these rewards are the blessings of my family. We all live in North Carolina.